Flax Bedding USA

Blue Ribbon Farm is proud to be the only distributor in the United States of Flax bedding!
Flax bedding is a bi-product of the flax crop industry, which is first harvested for the seeds, and then for either linen or cigarette paper. This premium source of bedding, which is sustainable and renewable, is highly regarded in Europe, and is now being proudly introduced by us to the United States.
Flax bedding is non-allergenic, is absolutely DUST FREE, and 4 to 10 times more absorbent than the usual bedding materials used in the US (straw, pine shavings, and sawdust). Because it absorbs more urine than the usual bedding, it is cost-effective and produces less muck, which means less money to dispose of the muck.
Another extremely important benefit of this bedding is the fact that it does not create flames when in contact with fire, making it easier to deter and extinguish a potential barn fire!
Benefits of Flax Bedding

1. Equine Health Benefits:

Completely dust free
Absorbs more ammonia than common bedding materials

Ensures horses are always on a dry surface
Ideal for horses with airway problems
Ideal for horses sensitive to allergies

2. Cost-Efficient:

Requires 70% less than straw or shavings
Cheaper to remove
Easier to dispose of
Faster to clean, saves labor time and cost
Produces 70% less waste than straw

3. Good for the Environment:

Renewable
Sustainable
More biodegradable
Can be spread without composting
Produces less waste

4. Good for Pastures:

Breaks down quickly
pH neutral: does not alter the soil pH
Easier to spread than any other bedding because of particle size
Adds N to the soil instead of depleting it like wood products (shavings and sawdust)
SAVINGS: $$$
On a 12x12 stall, on average, you will start with 4 bags, and add 1 bag of flax per week. This is a huge savings when compared to shavings, straw, or sawdust, when you will add 3 to 4 bags or bales per week.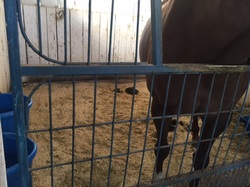 This picture depicts a stall that was bedded with 4 bags initially, and on day 11 (picture), no extra bedding had been added yet.
This stall was picked once a day, and the horse spent 12 hrs each day in the stall.
This horse eats straight alfalfa hay, rich in protein, which means this horse urinates a lot.

---
For more information, contact us at info@blueribbonhorsefarm.com or message us on our facebook page!
https://www.facebook.com/BlueRibbonHorseFarm
We sell in Kentucky and Southern Ohio/Indiana.
For Tennessee, please contact Boyd Taylor at 615-975-7031.

For other states, we can only sell by the truckload. A truckload comes with 1050 bags, and for states like Georgia, South Carolina, North Carolina, Maryland, New Jersey, New York, Virginia, West Virginia, Pennsylvania, if you buy a truckload, you will pay between $7.50 - $8.00 per bag.

Research that shows that flax bedding is more absorbent than other bedding materials: http://www.j-evs.com/article/S0737-0806%2813%2900907-6/abstract